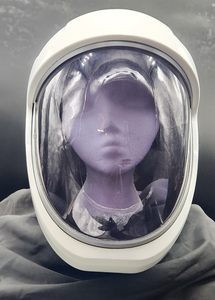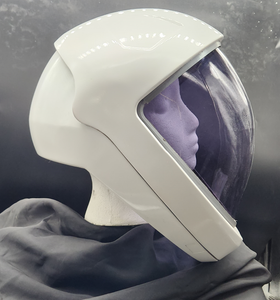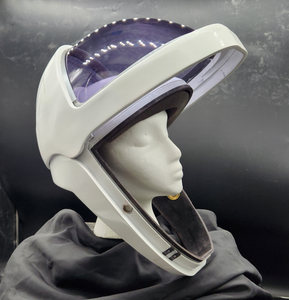 SpaceX Inspired Starman Helmet
Regular price
Sale price
$600.00
---
Step into the realm of interstellar exploration with our SpaceX-Inspired 3D Printed Space Helmet, designed exclusively for Cosplay enthusiasts and space enthusiasts alike. Inspired by the futuristic vision of SpaceX's space missions, this meticulously crafted space helmet is the perfect accessory to elevate your Cosplay adventures to new heights. Crafted with precision using advanced 3D printing technology, this helmet boasts unparalleled attention to detail and captures the essence of real space exploration. Prepare to embark on galactic quests and immerse yourself in the captivating world of space exploration with this stunning and authentic space helmet.
NOTICE: We do not always keep these in stock.  The helmets may take up to 2 weeks to assemble depending on part levels.  If you need it quicker, please contact us first to see if we have any in stock or actively being assembled.
Futuristic SpaceX Design: Inspired by the iconic SpaceX crewed missions, our 3D Printed Space Helmet features a futuristic design that echoes the grandeur of real space exploration. Its sleek lines and captivating details pay homage to the vision of interstellar travel.
Authentic 3D Printed Craftsmanship: Meticulously crafted using state-of-the-art 3D printing technology, this space helmet exudes authenticity. The precision of the printing process ensures a lightweight yet durable helmet that is ideal for extended Cosplay sessions.
Unparalleled Attention to Detail: Our SpaceX-Inspired Space Helmet is designed with meticulous attention to detail, capturing the essence of real astronaut helmets. From the visor to the ventilation system, every feature is crafted with accuracy to transport you to the far reaches of the cosmos.
Enhance Your Cosplay Experience: Elevate your Cosplay experience with this realistic space helmet, adding an extra layer of authenticity to your space-themed characters and adventures. Whether you're portraying a futuristic astronaut, a space explorer, or a Sci-Fi hero, this helmet will steal the show.
Lightweight and Comfortable: The 3D printing technology used in crafting this helmet ensures a lightweight design that guarantees comfort during prolonged wear. Say goodbye to bulky and cumbersome helmets, and immerse yourself fully in your Cosplay persona.
Versatile and Fun: Perfect for Cosplay events, costume parties, comic conventions, and Sci-Fi gatherings, this SpaceX-Inspired Space Helmet is a versatile accessory that allows you to embrace the thrill of space exploration whenever the occasion arises.
A Thoughtful Gift for Space Enthusiasts: Surprise space enthusiasts, Sci-Fi fans, and Cosplay lovers with a gift that unlocks the limitless possibilities of interstellar adventure. The SpaceX-Inspired Space Helmet is a thoughtful and thrilling present for anyone with a passion for the cosmos.
Why Choose Our SpaceX-Inspired Space Helmet?
A captivating 3D printed space helmet inspired by SpaceX's vision of space exploration.
Authentic craftsmanship with attention to detail for a realistic appearance.
Lightweight and comfortable design for extended Cosplay sessions.
Versatile accessory for Cosplay events, parties, and Sci-Fi gatherings.
A thoughtful gift for space enthusiasts and Cosplay lovers.
Unleash your inner astronaut and explore the cosmos in style with our SpaceX-Inspired 3D Printed Space Helmet for Cosplay. Designed to transport you to the frontiers of the universe, this helmet ensures an unforgettable and immersive experience. Order now and set forth on cosmic adventures that transcend time and space!