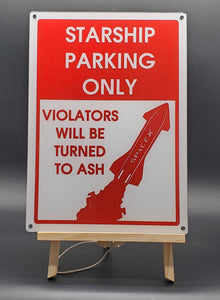 Starship Parking Only Sign
Regular price
Sale price
$30.00
---
Welcome to the ultimate cosmic parking zone with our Starship Parking Only sign! This 10" x 14" white acrylic sign boldly declares a reserved space fit for interstellar voyagers. Crafted with precision, the captivating design features crisp lettering and striking visuals, celebrating the spirit of space exploration in style. However, there's a warning to those who dare defy the cosmic rules – Violators will be turned to ash. This sign playfully adds a touch of humor, reminding all that the forces of the universe aren't to be trifled with. A perfect addition to your home, office, or any space-themed gathering, this sign announces the exclusive domain of starships and thrills all space enthusiasts with its stellar charm.
A Cosmic Declaration: Our Starship Parking Only sign announces a space reserved for interstellar wonders, immersing you in the spirit of cosmic exploration and daring adventures.
Elegance in White Acrylic: Crafted from high-quality white acrylic, this sign showcases an elegant backdrop that captivates the eye and adds sophistication to any space.
Bold Design and Striking Visuals: With crisp lettering and an eye-catching design, the sign proudly displays its message, capturing attention and admiration from any onlooker.
A Playful Cosmic Warning: The humorous warning of Violators will be turned to ash adds a playful twist, reminding all that cosmic laws are not to be taken lightly.
Perfect for Space Enthusiasts: An ideal addition to any space-themed environment, this sign is a must-have for fans of space exploration and those who seek celestial wonders.
Versatile Size for Multiple Uses: Measuring 10" x 14", this sign is perfect for various spaces, including your home, office, garage, or any area where cosmic enthusiasts gather.
An Inspired Gift: Surprise fellow space enthusiasts with a gift that radiates cosmic charm. The Starship Parking Only sign is a thoughtful and unique present for space enthusiasts of all ages.
Why Choose Our Starship Parking Only Sign?
A captivating 10" x 14" white acrylic sign with a cosmic declaration.
Elegant design and striking visuals add sophistication to any space.
Humorous warning adds a playful twist to the cosmic atmosphere.
Perfect for space-themed environments and gatherings.
A unique and thoughtful gift for space enthusiasts.
Unleash the cosmic adventurer within and reserve your space in the cosmos with our Starship Parking Only sign. Embrace the thrills of space exploration and stake your claim in the celestial realm. Order now and declare your interstellar parking prowess with this stellar sign!