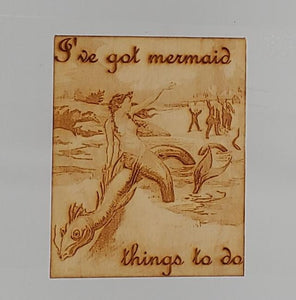 I've Got Mermaid Things To Do Wooden Magnet
Regular price
Sale price
$7.00
---
Dive into a world of enchantment and seize the day with our "I've Got Mermaid Things to Do" Refrigerator Magnet. This whimsical and charming magnet features a delightful illustration of a spirited mermaid setting sail on the back of a sea serpent, waving to the mesmerized men on the shore. With these playful words, it serves as a daily reminder to embrace adventure and take on your day with oceanic determination.
Embrace the Whimsical Mermaid Spirit: Inspire a dash of maritime magic and light-hearted fun with our delightful refrigerator magnet. The spirited mermaid's journey on a sea serpent captures the essence of joy and wanderlust, encouraging you to embrace life's adventures with a mermaid's flair.
A Playful Daily Reminder: Place this magnet on your refrigerator or any magnetic surface where it serves as a charming daily reminder to prioritize life's joyful pursuits. Whether it's tackling your to-do list or embarking on a grand adventure, let the mermaid's spirit guide you.
Detailed Illustration and Vivid Colors: The enchanting illustration comes to life with meticulous attention to detail and vivid colors. The cheerful mermaid, the sea serpent's majestic presence, and the men on the shore create a delightful scene that captures the imagination.
A Unique and Thoughtful Gift: Surprise the mermaid lovers and dreamers in your life with this one-of-a-kind gift. The "I've Got Mermaid Things to Do" Refrigerator Magnet is a charming and thoughtful present that brings a smile to anyone's face.
Durable and Magnetic Design: Crafted with durability in mind, this refrigerator magnet boasts a strong magnetic backing that keeps it firmly in place. Its high-quality construction ensures it remains a delightful part of your everyday life for years to come.
Why Choose the "I've Got Mermaid Things to Do" Refrigerator Magnet?
A playful and whimsical magnet featuring a mermaid setting sail on a sea serpent.
Encouraging words serve as a delightful daily reminder to embrace life's adventures.
Detailed illustration with vivid colors captures the charm of the mermaid's journey.
An ideal gift for mermaid enthusiasts and anyone with a love for oceanic wonders.
Durable magnetic design ensures it remains a cherished companion in your home.
Elevate your kitchen decor and let the mermaid's spirit enchant your daily life with our "I've Got Mermaid Things to Do" Refrigerator Magnet. Place your order now and embrace a life filled with mermaid whimsy and delightful pursuits!