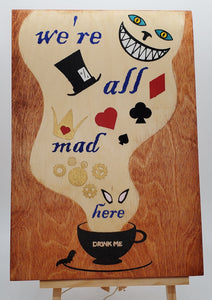 We're All Mad Here Wall Art
Regular price
Sale price
$50.00
---
Behold, a whimsical masterpiece that will transport you to the enchanting realm of Wonderland - our hand-painted wooden wall decoration, featuring the iconic phrase, "We're all mad here," accompanied by intricate hand-painted imagery representing the timeless themes of Alice in Wonderland.
Crafted with love and attention to detail, this wall decoration captures the essence of Lewis Carroll's fantastical tale in every stroke. The phrase "We're all mad here" serves as a gentle reminder that in Wonderland, madness is not just tolerated but celebrated! Embrace your inner quirkiness and let this charming piece inspire you to see the world through curious, wonder-filled eyes.
The hand-painted iconography on this wooden masterpiece is a true tribute to the beloved characters and whimsical landscapes of Alice in Wonderland. Feast your eyes on the curious Cheshire Cat, whose mischievous grin will never fail to spark a smile. The Mad Hatter's iconic top hat takes center stage, inviting you to join in the most whimsical tea party of all time. And of course, we couldn't forget the enchanting White Rabbit, a symbol of adventure and the pursuit of curiosity.
Each brushstroke is a labor of love, carefully crafted by skilled artists to ensure the highest quality and attention to detail. The use of vibrant colors against the natural grain of the wood adds an authentic touch, making this wall decoration a striking centerpiece in any room.
Versatile and easy to hang, you can display this masterpiece in your living room, bedroom, nursery, or even your office. Let it be a conversation starter and a source of inspiration for anyone who gazes upon it. This hand-painted wall decoration is not just a piece of art; it's an invitation to embrace your uniqueness and embrace the magic of Wonderland in your everyday life.
Whether you're a devoted Alice in Wonderland fan or simply adore whimsical decor, this hand-painted wooden wall decoration is a must-have addition to your collection. Let it ignite your imagination, brighten your space, and serve as a daily reminder that in this peculiar world, "We're all mad here" - and that's something to celebrate!
Unlock the door to Wonderland and bring home this delightful hand-painted wall decoration today. Let the magic unfold as you immerse yourself in the extraordinary world of Alice in Wonderland, where curiosity knows no bounds, and imagination reigns supreme.
---